8 February 2021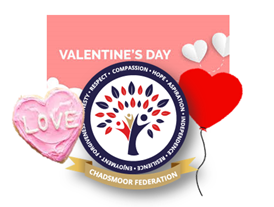 Chocolate Covered Fruit
Ingredients
Chocolate

Strawberries, oranges, melon
Method
Melt the chocolate of your choice and dip in fruit, for best results refrigerate.
Fruit & Pancakes
Ingredients
Fruit of your choice: Strawberries & Bananas

American Style Pancakes
Method
Heat up the pancakes, shape into hearts and cover in fruit for a yummy breakfast or snack.
Heart Eye Emoji Fruit Salad
Ingredients
Pineapple

Mango

Strawberries

Watermelon

Red Apple

Circle cookie cutters

Heart cookie cutters

Valentines Cookie Bars
Ingredients
2 sticks of butter at room temperature

1 cup granulated sugar

1 cup golden brown sugar

3 large eggs

1 1/2 teaspoons pure vanilla extract

3 cups all-purpose flour

3/4 teaspoon baking soda

3/4 teaspoon salt

1 1/2 cups M&M's plus more for topping

1 cup mini chocolate chips plus more for topping

1 cup raisins
Method
Preheat oven to 350 degrees.

Line a cake tray with foil, leave some overhang to make removal easier.

Spray foil generously with nonstick cooking spray.

In the bowl beat butter, granulated sugar, and brown sugar together until fluffy.

Add in eggs and vanilla extract and continue to beat.

Lower speed of mixer and add flour, baking soda and salt and mix until combined.

Add M&M's and mini chocolate chips and raisins and give a final stir, reserving some M&M's and mini chocolate chips for topping cookie bars.

Transfer cookie dough to prepared baking dish.

Press additional M&M'S and white chocolate chips into top of cookie dough.

Bake 35 to 40 minutes on middle rack of oven.

Let cool completely and cut.
Heart Shape Sandwiches




Valentines Jam Tarts
Ingredients
250g plain flour, plus extra for dusting

125g butter, chilled and diced, plus extra for the tin

1 medium egg

1 vanilla pod, seeds scraped (optional)

100g jam, fruit curd or marmalade of your choice
Method
Put the flour, butter and a pinch of salt in a bowl and rub them together with your fingertips. When the mixture looks and feels like breadcrumbs, stir in the egg and vanilla seeds with a cutlery knife. Add 1 tbsp cold water, then start to bring the dough together in one lump with your hands – try not to knead it too much. Add 1 more tbsp of water if it's not coming together, but try not to add more than that. Wrap in cling film and chill in the fridge for 30 mins.
Heat oven to 200C/180C fan/gas 6. Butter a 12-hole tart tin, then dust your work surface with flour. Unwrap and roll out the chilled pastry so it's about the thickness of a £1 coin, then use a straight or fluted round cutter to cut out 12 circles, big enough to line the holes in the tin. Dollop 1-2 tsp of your chosen filling into each one and, if you like, cut out little pastry hearts and place them on top.
Bake for 15-18 mins or until golden and the filling is starting to bubble a little. Leave to cool in the tin for a few mins then carefully transfer to a wire rack to cool completely.
Posted by Miss Edmunds