10 March 2021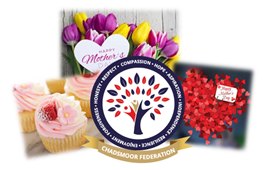 Lemon curd & blueberry loaf cake
https://www.bbcgoodfood.com/recipes/lemon-curd-blueberry-loaf-cake
Ingredients
Method
Heat oven to 160C/140C fan/gas 3. Grease a loaf tin and line with a long strip of baking parchment.
Put 100g yogurt, 2 tbsp lemon curd, the softened butter, eggs, lemon zest, flour and caster sugar into a large mixing bowl. Quickly mix with an electric whisk until the batter just comes together.
Scrape half into the prepared tin. Weigh 85g blueberries from the punnet and sprinkle half into the tin, scrape the rest of the batter on top, then scatter the other half of the 85g berries on top.
Bake for 1 hr 10 mins-1 hr 15 mins until golden, and a skewer poked into the centre comes out clean.
Cool in the tin, then carefully lift onto a serving plate to ice. Sift the icing sugar into a bowl and stir in enough lemon juice to make a thick, smooth icing. Spread over the top of the cake, then decorate with lemon zest.
Nutella-Stuffed Strawberries
Ingredients
12 large fresh strawberries

1/4 cup Nutella

1 cup milk chocolate chips, melted

1/4 cup chopped hazelnuts
Method
Remove stems from strawberries. Using a knife cut out centre; pipe Nutella into strawberries.

Insert a toothpick into the side of each strawberry. Holding toothpick, quickly dip stem end of strawberry into melted chocolate; allow excess to drip off. Sprinkle with hazelnuts; place strawberries on a baking sheet, point side up. Remove toothpicks; refrigerate strawberries until set.
Banoffee traybake
https://www.bbcgoodfood.com/recipes/banoffee-traybake
Ingredients
200g butter , softened, plus extra for the tin

2 large ripe bananas

250g light brown soft sugar

4 large eggs

1½ tsp vanilla extract

250g self-raising flour

100g natural yogurt

100g dark chocolate , chopped into chunks

100g thick caramel

12 dried banana chips/ banana chunks for decoration
Method
Heat oven to 180C/160C fan/gas 4. Butter and line a baking tin with baking parchment. In a jug, mash the bananas with a fork, then add the butter and sugar and mix with an electric whisk until smooth and creamy.
Add the eggs one at a time, then add the vanilla and a pinch of salt. Use a spatula to fold through the flour, yogurt and chocolate chunks. Scrape the mixture into the tin and smooth over the surface. Bake for 30 mins until risen and golden and a skewer inserted into the centre of the cake comes out clean. Cool for 10 mins in the tin, then transfer to a wire rack.
Cut the traybake into 12 squares, then top each one with a spoonful of caramel and a banana.
Peaches And Cream Mini Pancakes
Ingredients
X 1 Pack of Butterscotch pancakes
Topping:
5 - 8 peaches sliced
1/2 cup whipping cream
Posted by Miss Edmunds