20 October 2020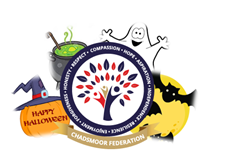 1. Snake Dough Sticks
https://realfood.tesco.com/recipes/3-ingredient-snake-dough-sticks.html
Ingredients
145g pack pizza base mix

200g tub salsa

pumpkin seeds
Method
Preheat the oven to gas 7, 220°C, fan 200°C and line a baking tray with baking paper. Empty the pizza base mix into a bowl (reserving 1 tsp), add lukewarm water and mix to a soft dough. Dust a work surface with ½ tsp of the reserved pizza mix, then knead for 5 minutes until smooth
Divide into 8 pieces and roll each into 28cm snakes (keep one end thicker for the head), using the remaining mix for dusting. Shape into zigzags or coils and transfer to the tray. Brush with a little of the sauce from a tub salsa and press on small pumpkin seeds for eyes. Bake for 15-20 minutes until golden, then serve with the remaining salsa.
2. Boo–nanas


Ingredients
1 medium banana

100g white chocolate

8 mini chocolate chips for eyes

4 ice lolly sticks
Method
Cut the banana in half lengthwise, then in half to make four quarters.
Push the ice lolly stick into the less pointy end of the banana, and freeze bananas on a grease proof paper.
After 24 hours, your bananas will be frozen.
Chop your chocolate up add it to a bowl and melt it by adding it to the microwave 30 seconds at a time, stirring until the chocolate is melted and soft.
Dip the bananas into the chocolate, scraping off the excess chocolate from the back of the banana, and place it on a baking tray lined with greaseproof paper. Add the chocolate chips for the eyes before while the chocolate is still wet.
Freeze again for about 2 hours.
3. Ghost Pizza Bagels
Ingredients
8 slices mozzarella

8 mini bagels

Marinara/ tomato puree

4 black olives / alternatives such as mushroom
Method
Preheat oven to 350 degrees F. Cut mozzarella slices into ghost like shapes using a knife.

Spread a thin layer of marinara/tomato puree over pizza bagel and top with ghost.

Bake until cheese is melty, 10 minutes.

Meanwhile, cut olives/ mushrooms into little pieces for eyes.
4. Halloween Ghost Fruit Skewers
Ingredients
Marshmallows

Strawberries

Melon (cut into cubes)

Wooden Skewers

Black Food Colouring
Method
Place the fruit of your choice onto the skewers, and add spooky ghost features with the black food colouring.
A variety of different fruits can be used depending on your child's favourite tastes.
5. Strawberry Ghosts
Ingredients
fresh strawberries

white baking chocolate, chopped

teaspoon almond/vanilla extract

chocolate chips
Method
In a microwave-safe bowl, melt white chocolate and stir until smooth. Stir in extract.
Dip strawberries in chocolate mixture; place on a waxed baking sheet, allowing excess chocolate to form the ghosts' tails. Immediately press chocolate chips into coating for eyes. Freeze 5 minutes.
In microwave, melt remaining chocolate chips; stir until smooth. Dip a toothpick into melted chocolate and draw a mouth on each ghost.
Posted by Miss Edmunds